Every morning, I start with this amazing spread (enable images):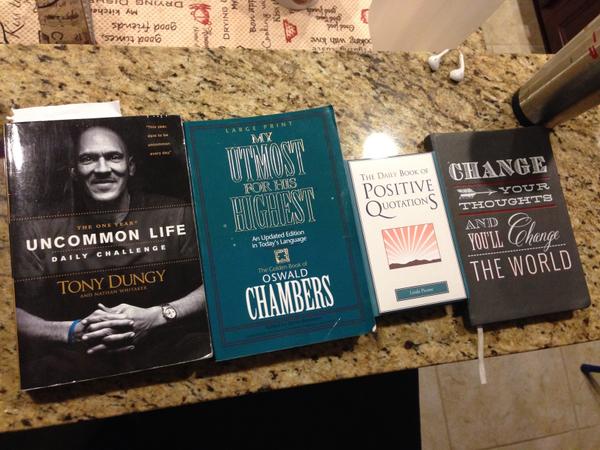 In case you can't see them, here they are:
#1 Uncommon Life Daily Challenge by Tony Dungy
#2 My Utmost for His Highest by Oswald Chambers (just started this one again over the weekend)
#3 The Daily Book of Positive Quotations
#4 Gratitude Journal
It's no spread of pancakes, but it's even better 😉
In the extremely rare occasion I don't start my first 15 minutes of the day with this "spread", I can tell a huge difference in the way my day goes.
Now before you roll your eyes, hear me out…
15 minutes is very doable.
It's much more powerful than you can ever imagine. Let's do some math together…
15 minutes X 7 days per week = 1 hour and 45 minutes EVERY week…
Let's take this a step further…
1 hour and 45 minutes X 4 weeks (4 weeks are typically in a month) = 7 hours per month
Imagine what you could achieve in 7 additional hours a month.
Start your dream business?…
Improve your health?…
Master a new hobby?…
The possibilities are really endless, right?…
…all in just 15 minutes.
I have nothing to add. I'm going to abruptly end this email now.
Mikey Whitfield, Master CTT