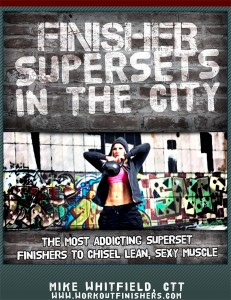 About a week ago, I asked you about an idea for naming a Female Finishers program on my Facebook Page and you really delivered.
In fact, here is how Lisa responded – "Does it need to be gender specific? I love the Meatheads finisher, not fazed by the name at all. Do people who do hardcore finishers care about "girly" names?? Sorry to be not helpful, I just love your finishers regardless of name!"
And David responded with, "Supersets in the City".
So, that's how "Finisher Supersets in the City" was born. In fact, the manual has no circuits at all. It's entirely supersets (every single finisher).
We're talking density supersets, countdowns and more, like the "Fat Torcher", the "4 in 1" and the "Super Metabolic Ladder".
And of course, thanks to Lisa, they are not gender specific. My long time male client of 5 years is doing #4 later this morning.
You can get it as a free bonus when you get my friend Sue's Ideal Body Blueprint here:
=> Ideal Body Blueprint + Finisher Supersets Bonus
Details are below on how to get the bonus.
And ladies, I have some exciting news for you.  Australian Fat Burning Expert Sue Heintze has just released a brand new version of her ultra-popular Ideal Body Blueprint Program for Women.
The Ideal Body Blueprint Program is a 3 stage program that doesn't just burn unwanted fat… it replaces it with lean, shapely muscle (in all the right places!) and more importantly… keeps the fat off for good!
As a regular contributor to Oxygen and Women's Health & Fitness magazines, Sue really knows her stuff when it comes to getting ladies in tip top shape.
When this program debuted several years ago, Sue regularly charged $149 for just the beginner level program.  But she understands that the current economy has left many people tighter on funds than usual.
And Sue doesn't want anyone's budget preventing any lady from getting the firm, sculpted figure they really want.
Sue has helped thousands of women do exactly that… and now she's SLASHED the price of the new Ideal Body Blueprint!
Just look what recent "success stories" had to say about this program…
Female Body Blueprint + Finisher Supersets Bonus <= Over HALF OFF plus VIP Coaching Bonus!
Sue is making it even easier for you to succeed: If you act now, she's including 30 days of V.I.P. coaching with each copy of Ideal Body Blueprint.
That way, you get an extra edge – access to a highly skilled fat-burning expert that you can ask your personal question if you get stuck in training or aren't sure on any part of the program.
Think about it… wouldn't it be awesome to finally have the body of your dreams?
Just see for yourself how the Ideal Body Blueprint can help you by heading here right now:
Get the Finisher Supersets in the City FREE Bonus <= Over HALF OFF plus VIP Coaching Bonus!
I've known Sue now for about a year and she is the real deal. Imagine plugging in the Superset Finishers bonus with her workouts.
You'll blow away your family with your new look when you see them over the Holidays.
P.S. Plus, don't miss out on 30 days of free coaching with a female fat burning expert like Sue.
To get the VIP coaching, you have to get her program today.
Body Blueprint + Finisher Supersets Bonus <= VIP Coaching Expires Today
Now, here's how to get the Finisher Supersets in the City bonus:
Grab Sue's program from the link above.
Forward your receipt to us at cranktraininghelp@gmail.com, asking for the bonus, "Finisher Supersets in the City".
We'll send the bonus your way.
May you never, EVER get bored with your workouts,
Mikey, CTT